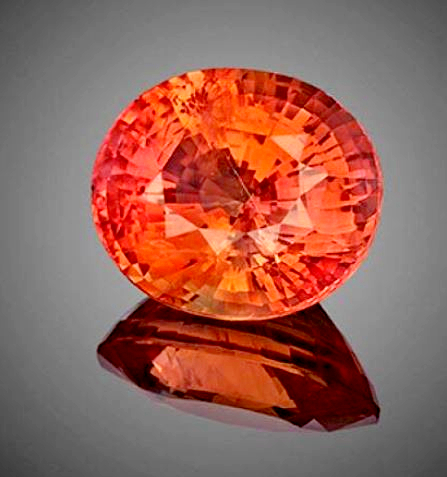 What is a Padparadscha Sapphire
If you are looking for a truly stunning gemstone, rather than think of diamond first, you should be taking a closer look at a relatively little-known sapphire that is sure to turn heads. The Padparadscha Sapphire (pad-pah-raj-ah) has its name derived from the Sinhalese word for an aquatic lotus blossom that is found in an uncommon salmon color in the wild. These stones are found on the commercial market largely from Sri Lanka, but they also have been known to be found in Madagascar, Vietnam, and Tanzania. While deriving its name from a predominantly salmon colored blossom, further research reveals that Padparadscha Sapphires often are found to be a color between pink and orange. Some of these sapphires are not strictly salmon colored but feature color striations with both pink and yellow. These are the most rare form of sapphire available and usually considered to be very beautiful. The relatively high cost of Padparadscha Sapphires is due to the rarity of natural occurrence and the fact that they are rarer than diamonds.
How are Padparadscha Sapphires Made
The Padparadscha Sapphires found in natural environments are formed in the earth's mantle and subjected to extreme heat and temperatures in the presence of the element corundum. Sapphires that exhibit a poor pink color from areas of lower quality stones can emerge with an exquisite pinkish-orange to orangish-pink "padparadscha" color that can be accentuated through heating and pressure in the laboratory environment. During the natural formation process, beryllium atoms penetrate deep into the forming sapphire, thus making it difficult to detect. In response to this problem, gemologists have developed a reliable testing procedure to identify beryllium diffusion. In terms of getting that perfect color, it is both possible to find natural colored stones in a variety of hues and intensity, which are often less than two carats in most cases, or to enhance color in stones through heat treating at extreme temperatures to mimic natural conditions that the sapphires would be subject to in the earth's crust.
Tips For Choosing The Perfect Padparadscha Sapphire
Just like with many other precious stones and gems, there are several considerations to be made when choosing the perfect stone to fit your particular need. Whether you are looking for a particular shade, size, cut, clarity, or any other variable, knowing what to look for will help you choose a stone that will become a family heirloom when you pass it along to your children and the tradition of owning a beautiful and rare gem continues. The longevity of these gemstones is due to being second only to diamonds in their hardness. It is important to note that when you are choosing between stones, the Padparadscha Sapphire's clarity is a very important consideration. That is largely because these stones featuring light tones reveal what are known as inclusions and are bits of the host rock where the gemstones were found. This is important because any sort of impurity or cloudiness in the finished cut will dull a Padparadscha Sapphire's light and delicate color. While high levels of inclusions will reduce the overall cost of a stone, it may detract from the overall appeal of the stone. Finding the perfect color and the perfect balance is key to choosing the right stone for your setting and budget.
Padparadscha Rings
If you are looking for an excellent way to display your beautiful Padparadscha Sapphire, consider doing so with a ring. While these sapphires can be found in almost any cut from a traditional oval cut to other common cuts, such as round and cushion, they can also be found in more fancy cuts such as heart, trillion, and pear. However, due to the scarcity and relatively small size of a Padparadscha Sapphire in general, there are certain cuts like the emerald cut which are less commonly found due to the loss of weight when cutting it from the rough stone in which the gem is found. The more common cuts that make the best use of the entire stone are what you are most likely to find when it comes to rings and stones that are not custom ordered or custom cut. Choosing to buy a loose stone and have it cut to your specifications is the best way to ensure that you get the perfect cut for your particular setting. Whether you are looking for a perfect gift for an anniversary or birthday, you can say more with a beautiful Padparadscha Sapphire ring than with words alone.
Padparadscha Necklaces
If you are not looking for a ring but still would like the opportunity to find a way to display all of the beauty and exquisite color of a Padparadscha Sapphire, a necklace is the perfect place to do so. Whether you are drawn to the gemstone and its unique color while looking for the perfect piece of jewelry to match a particular piece of clothing or you are building your wardrobe around the stone itself, there is no wrong answer when it comes to reasons to own one of these beautiful and incredibly rare sapphires. No matter if you pair the subtle salmon color of the stone with yellow gold, silver, platinum, white gold, or any other precious metal, you are going to get a piece of jewelry that you are going to treasure for many years to come. It is perfect to wear while spending a romantic night out on the town with the person you love or just adding that extra touch to your daily wardrobe. Give the one you love a Padparadscha Sapphire, and let your love shine.
Padparadscha Sapphire Earrings
To complete, or accompany, your existing collection of sapphires or other gemstones, why not pair them with a beautiful set of Padparadscha Sapphire earrings? Or, if you currently do not own one of these rare and exceedingly beautiful sapphires, earrings are an excellent first step to building your Padparadscha collection. Setting these beautiful and subtly colored gem stones in earrings means that they are readily there for the world to see. The color and clarity of these gemstones mean that even with the most subtle light catches, the facets cut into the stone will sparkle, and people are sure to take notice. Just like with Padparadscha rings and necklaces, the subtle salmon color of these sapphires blend themselves perfectly with any type of precious metal that you choose to pair them with. Gold, silver, platinum, and any other setting can make a great accompaniment to your earrings. So, no matter what color or setting appeals to you, you can find the perfect Padparadscha Sapphires to accompany them and your wardrobe.
Loose Gemstones
For those individuals who prefer a gemstone that speaks to them, a considerable selection of loose Padparadscha Sapphires are commercially available to choose from. Available in a wide variety of cuts, clarity, hues, and prices, browsing through loose stones that meet your stringent specifications is not only easy, it is extremely enjoyable, also. Loose stones can be found in a variety of cuts from round to cushion, oval, radiant, asscher, emerald, heart, pear, baguette (straight), or princess cuts. However, it is important to remember that the rarity of the sapphires themselves limit the overall availability of the size of the final cut due to the need to make use of the most gemstone possible from the host rock. Each of these stones is graded, sized, and priced accordingly to that end. A close inspection of the stones available from a reputable gem dealer will give you all of the information that you need to make an informed decision regarding which stone is right for your particular need or application.
Padparadscha Sapphire Settings
When it comes to the settings available for Padparadscha Sapphires, your imagination and the size of the stone that you are looking for is the limit. While not usually large, these beautiful stones can be paired perfectly with a variety of different accent stones that help add to the Padparadscha Sapphire's natural subtle salmon to pinkish-orange color. Commonly paired with other precious stones such as clear diamonds, natural blue sapphires, and a wide variety of other gemstones, the inclusion of a Padparadscha Sapphire is a great way to elevate any jewelry piece to another level. Inset in a wide variety of precious metals such as yellow gold, white gold, silver, platinum, and others, there is nothing quite like a Padparadscha Sapphire. Just like with any other gemstone, a wide variety of settings are available depending on what you're specifically looking for. Or, choose a loose stone, and find the perfect setting to match your wants and needs. Whether it is set in a ring, necklace, earrings, or any other jewelry piece, one of these extremely rare gems is beautiful in any setting.