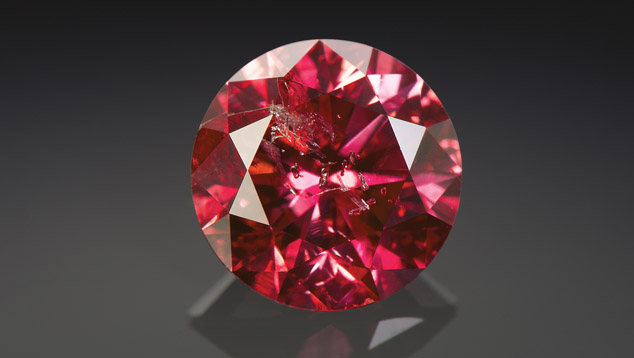 Have you ever wanted to have something no one else can have? How about owning the Mona Lisa or Starry Night by Van Gogh? Maybe a collector's edition Lamborghini? Red diamonds are even rarer than a genuine Picasso. The first red diamond that inspired me was the .95 carat Hancock Red Diamond, which was a natural red diamond from Brazil that was purchased by a rancher near my hometown of Billings, Montana. He liked to collect natural diamonds and at the time he started collecting they were hardly known at all, and thus did not command a very high price. He bought the Hancock Red as part of a collection of natural colored diamonds for about $13,500 in 1956, and when it sold in 1987 at Christie's Auction House in NY, it broke all previous records as it sold for $880,000! That's a 6500-times increase in value over its original purchase price! The Hancock Red Diamond held the record as the highest price paid per carat for 20 years. Another red diamond story is that of the De Young Red Diamond. The De Young Red Diamond is one of the largest red diamonds ever found. It was purchased at a flea market in an old hat pin by Mr. De Young for only a few dollars because everyone assumed it was garnet! In actuality, it is a 5.03ct red diamond with a slight brownish undertone! The diamonds are worth millions and are now on display at the Smithsonian Museum in Washington DC.
Natural diamonds are formed in every color on the visible light spectrum. While some colors such as brown devalue the colorless diamond that we all know, the presence of others makes the stone even more valuable. Pink and blue are very rare and highly prized but not more so than the even rarer color, red diamond.
Diamonds primarily form in carbon deposits deep underground, although they have also been known to form when larger asteroids collide with earth. The incredible pressure generated from the weight of rock surrounding the deposit and heat of 1650-2400 degrees Fahrenheit in the Earth's mantle, cause the carbon atoms to arrange in a cubic crystal structure called a lattice. This lattice structure is formed with each carbon atom bonded to another four carbon atoms via a stable covalent bond, resulting in an immensely strong and dense molecule.
Whilst some diamond colors are a result of impurities in the carbon matrix, a red diamond consists of purely carbon atoms, just like the colorless variety. The color occurs due to a stress during formation that causes an irregularity in the lattice structure. This results in light traveling through the matrix and bending in a way that produces a red color to be visible. Graded by intensity, the stronger the hue and the absence of secondary colors increases the value of the gem.
Found mostly in Australia, red diamonds are usually less than half a carat in size and only a few dozens are known to exist worldwide. Because of their crazy rarity and small size, red diamonds are known as ultra condensed wealth. There is almost nothing else more expensive per size in the world! In fact, they are often 300 times more expensive than a regular colorless diamond!
So why buy a red diamond?
In brief: to diversify your investments, have something super rare, and enjoy a beautiful asset. Even if your friends can afford one, the red diamond's rarity means they are not always available, and when they are, each one is very different and unique. To give you an accurate perspective on what is meant by rarity here's an example: all the women who have ever had a red diamond engagement ring could fit in a small living room, such as the rarity of this gem.
As a guy, I view a red diamond pinky ring as the perfect sign of real wealth because only a few can ever afford one and even your richest friends can't duplicate. Let's face it, at a certain level of affluence, anyone can have a 10-carat diamond solitaire, or two or three, but with red diamonds, it's just not even possible. Call it hidden and sophisticated if you like, but it's a lot more interesting than the mega diamond bling that many people go for to show wealth.